Shalom M., Age 8
Tribe of Issachar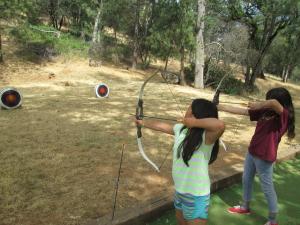 Every year at camp we do archery. Everybody has to meet at the basketball court and then we all walk down to the range. The range has a lot of grass, and at the end of the field are targets. They have a lot of holes on the front and back. Those are from the arrows.
When you are shooting arrows you always try to make bull's-eye. It's really hard! You have to aim at the middle of the red part. I have done it twice! You might want to wear light gloves so it won't hurt your hands when you are shooting.
The things I like about archery is you get to use awesome bows, and the sound it makes when I hit the target. I also like that I get to hang out with my friends and do something that we don't get to do often. I'm really glad we get to have archery in summer camp!