Let Us Press On
The Gilgal Gazette is published by Camp Gilgal campers for Camp Gilgal campers.
Tribes:
Out-of-Cabin Staff:
Guests:
Directors:
---
Interviews and Family
Interview Simba
I am going to interview Simba. He is my assistant tribe leader and takes naps a lot. The reason I am writing this is so you can know more about him (though I don't know his address and phone number). I hope you enjoy.
Snapple

Amanda R., Age 11
Tribe of Judah

Snapple is super cool and nice. I really like her personality. That's why I chose to interview her.

Amanda: How long have you been going to camp?
Snapple: 12 years

Amanda: What is your favorite part of camp?
Snapple: Getting to know and spend time with the campers!

Amanda: Do you like being in or out of cabin staff?

Snapple: Both in different ways

Amanda: Where did you grow up?
Snapple: San Francisco

Amanda: What is your favorite memory of camp?
Snapple: When my tribe won tribe of the year and we spent $86 on Chinese food!

Amanda: What is your favorite color?
Snapple: Green

Amanda: What is the name of the very first tribe you were in?
Snapple: Zebulun!
Getting to Know Hershey
Hershey is my assistant tribe leader this year. I chose to interview her because I wanted to know more about her.
Carpetball Tournament
Carpetball is a game in which you must throw an assigned ball at your opponents and knock them in. The first to knock all five balls in wins. Acorn, an ATL, won. Below I will interview her:
Jet

Isaac Y., Age 11
Tribe of Benjamin

Jet is one of the out of cabin staff. Below I will interview him. Out of three years he's done one year in cabin and the others out. He is cool! Interview below:

Q: Jet, when you were a small plane what did you do for fun?
A: I liked to go high as I could and visit my friends at different airports.

Q: Jet, did you go through all the camp?
A: Yes, and I've been on staff for three years.

Q: How has Camp Gilgal changed your life?
A: It told me about God and the personal experience about God. Camp Gilgal got me through the time where I was off the path and helped me get back on the right path.

Q: What is your favorite activity?

A: Basketball with friends

Q: Is camp your favorite time of the year?
A: Yes

Q: What is your favorite Bible verse?
A: Psalm 23, all of it

Q: What school do you go to?
A: Cal Poly San Luis Obispo
Streetlight
I chose Streetlight because she is a very interesting person, and I would like to learn more about her.
Gonzo Interview
Gonzo is a great person who has been helping Camp Gilgal and been in Camp Gilgal for about 12 years. Gonzo is a great tribe leader to me and my tribe. Because Gonzo is my tribe leader I decided to interview him. Here are eight questions that I asked Gonzo.
Bazooka-zooka Bubble Gum
Bazooka is a great tribe leader. She has been my tribe leader for two years. Bazooka has a great personality and is definitely one of my favorite tribe leaders. That's why I chose to interview her.
Well, Bazooka has great stories and a great personality. It was definitely a fun interview.
Spike
Thank you for answering my questions.
Interview Bandit
Phoenix

Sarah K., Age 12
Tribe of Naphtali

Q: Where do you live?
A: San Francisco, but moving to London

Q: Did you go to camp when you were little?
A: Went to a Jewish camp and was a Hebrew teacher at Camp Gilgal.

Q: How many languages do you speak and which ones?
A: Four languages: German, Russian, English and Hebrew

Q: How many kids do you have and what are their names?
A: Three kids: Noa, Boaz and Hati

Q: What are your favorite colors?
A: Purple and blue

Q: How did you know about Jews for Jesus?

A: Her husband, Big Foot, is a missionary with Jews for Jesus.

Q: How long did you live in Israel?
A: Lived in Israel for nine years, and that's when she learned Hebrew.

Q: Do you like being a teacher?
A: Tries to make Hebrew fun in a short period of time as a Hebrew teacher.

Comments: Recommends a website diddl.co.uk to stay in touch with diddle and friends. Phoenix is a person who is a fun teacher and a nice person to talk to. It's been great having her as my Hebrew teacher.
Maverick
Hi, my name is Jacob and Maverick is my tribe leader. Maverick is funny, a good singer and an interesting man. Well, I'm going to ask him some questions so we have more information on him.
Moose
"What is your favorite game of camp? Do you enjoy FOB? How many years have you been the head of Gilgal? What is the most important thing about Camp Gilgal?" Moose answered all my questions in perfect order. His favorite game is M.I. (Mission Impossible) and he enjoys FOB very much but often has to work during it. Moose has been the head of Gilgal since it started in 1991 and enjoyed bringing Jesus to campers all these years. He says the most important part of camp is for the campers to come take Y'shua (Jesus) in a more personal way and for them to go on to serve Him.
This interview helped us learn more about our friend and leader, Moose. I know that I learned a lot more about Moose after this interview.
Horseback Riding
Horseback riding was fun. It was surprising because there was a patch of snow in the middle of July where we went. The horse I went on was just the right size for me. Moose told us that you can eat the light green tip of pine needles. My horse's name is Poncho. At the beginning I was a little nervous to ride a horse, but Moose was nice and said he would ride next to me. The path was very smooth and it was a really fun thing to do because it was just the guys.
Skit Night
Night Swim

Reuben R., Age 10
Tribe of Zebulun

Night swim was fun because we went down to a bigger campsite and used their huge pool (and I've never been to the other pool before). The pool had a good temperature. There also was a basketball hoop right next to the pool as well as pool noodles made of foam. I kept on riding Emmanuel's back even though he kept flinging me off his back. I made a few shots in the basketball hoop, but I also missed a lot of shots too. I also chased Emmanuel around the pool. We also played Frisbee in the pool and we threw three balls around in the pool, too. Skye got hit in the head with a Frisbee. When we were throwing the ball around the pool I got it once. We all enjoyed the pool and then the whistle blew. We lined up and left the pool. Anyway the pool was fun, cool, and warm too. I'm happy I reminded myself and Josh to get goggles and bring them into the pool. The place was called "Far Far Away." Finally we left the pool after a fun evening of swimming. My favorite part was when I chased Emmanuel. The pool was super fun!
Horseback Riding
Fourth of July Parade
Feed Your Friend Night
Ladies Campfire
Crafts
We sandpapered the Tzedakah box, and we also had hammers so we could nail it. After we did that we wood burned it. Then we painted it. I made a new color by mixing red, blue and brown. I used gold for the top. I painted happy faces and pretty colors, I left it to dry and tomorrow I will finish painting! Noa thinks the craft is fun and interesting. Malachai liked nailing and thinks it's lots of fun. Maddie liked painting the box. I really enjoyed the craft.
---
Only at Camp Gilgal
Mission Impossible
It was quiet (not really), noise was filling the air. Then suddenly, a very loud noise broke out. It said…………. "The big dipper! Isn't that exciting!" But then, something exciting happened! A flash of drums, a flash of light, my golden coat flew out of sight. Hahahahaha. A flash of light and music broke through. I ran to my cabin and was scared. But there was no need. It was Mission Impossible. So we go into our darkest clothes, we opened our clue, and it said, "Basketball Court." We ran down the hill and were almost spotted, and the spy, "Poppins," was there. We were trapped, but we got free. We ran everywhere looking for all of our clues, and then we were the first ladies to enter the dining hall! The tribe of Benjamin won first place and won prizes from the Gilgal store.
Capture the Degel
Capture the Degel is a game played by two teams. The teams are separated by lady tribe leaders with boy campers, and men tribe leaders with girl campers. The rules of the game are to set up a jail 25 feet away from the degel. If you are tagged by the other team you have to go to the other team's jail. When you get the degel you have to take it to the safe zone of your team's territory. Then the game is over. However, I got injured because I was very excited to play "Capture the Degel" for the first time. When you play Capture the Degel be safe. Also, when you choose a spot to put your degel and prison, be wise.
FOB Appreciation Day

Isaac Y., Age 11
Tribe of Benjamin

FOB Appreciation Day happened this year. It was the first time ever!!!! It was double the FOB time and you could get twenty five points per person in (don't worry if each person got 25 points, because the most you could get was hundred twenty five points). The way you could get twenty five points is be quiet and go to sleep or read and be quiet. My tribe mostly tried to be quiet so we read and went to sleep or ate candy. I think most of the tribes got full points. Maybe twenty five points off. It felt good to rest instead of normal FOB or Flat On Your Bunk. It was pretty fun. The first time ever – it was the out of cabin staff's idea. I think the out of cabin staff had the best time. We had so much time that there was no pool and choir was like ten minutes. And that was F.OB. Appreciation Day.
Hebrew
Tabernacle
Tabernacle is a fun way to worship God and learn about Bible stories. Moose talks about a story and we remember, Moose is guy, not a moose. For one lesson, Moose showed us barley and a weed. He taught us that God wants to grow the fruit of the Spirit in our lives, and the devil wants to do the opposite. He told us that it is important to read and learn the Word of God. Emmanuel, as does my friend Nathan, thinks Tabernacle is fun because you get to praise the Lord. Joshua 1:9 is my favorite song that we sang in Tabernacle. Tabernacle is a fun time.
Wells Fargo
Havdalah
Havdalah service was awesome! All of the things we did for Havdalah were for God. Shoe and Hoops handed out paper and they explained about the Havdalah service, and everyone sang songs and a Hebrew poem. It was fun! Havdalah service is important, and it is the end of Shabbat. When Camp Gilgal was doing Havdalah, we did it at a campfire. I LOVED it. Streetlight and Bandit were singing. The song that we sang was "Reign in Me." That song is one of my favorite praise songs. Sonic, Rocko and Big Tuna were there to visit. It was exciting. At the end of Havdalah service we stood in a circle and prayed about our troubles, and for Sonic, Big Tuna and Rocko to have a safe drive back. So far, I love Havdalah service.
FOB
FOB stands for "Flat on Bunk." You could sleep, whisper, or do stuff quietly. I usually read. My tribe leaders sleep because FOB is a quiet time in the day. Here are some of the opinions on FOB that I got from those I interviewed.
I personally think FOB is okay. I read most of the time. I've actually only slept once during all my four years of having FOB at camp. It is nice to have a relaxing hour each day. The best part, however, is that we go out to enjoy other activities when it ends.
Nationball
Cabin Inspection
Poem
Camp is fun, camp is cool, I like swimming in the pool Camp is exciting and dazy, there are lots of daises Camp was awesome but now it ended, and now my red heart has bended
Shabbat
Mail Call

Max C., Age 12
Tribe of Gad

When mail call starts we pound on the tables until the tribe leader swings their hand down and we stop, then they choose a spinner who has to do a 360 degree spin and twirl their hand down slowly. The camper only spins if a tribe leader gets a letter or a package. After the letters we go down to the bonus round where we have to pound on the tables again until the tribe leader swings their hand down. When you get the bonus round it's always a surprise because you don't know what you're going to get. So unwrap or unbox the surprise!! Some days we have to do special things like sing and dance for our mail. When Moose gets mail he goes crazy!! He picks up a camper and runs with them around the outside of the cafeteria. When Streetlight gets mail she sings "Don't stop believing." So come here and get your mail!!
Classified Ad
FOB
Degels
1st Time Campers
Today, Tomorrow, Forever a Princess
Choir

Ben R., Age 11
Tribe of Benjamin

Hello, readers of the Gilgal Gazette. I'm here to tell you a little about the Camp Gilgal choir. The choir is made up of many girl singers and three boy singers. It is also made up of two piano players, a bass guitar, Pixie, Onyx, and a guitar player (Simba). The choir practices almost every day. We are only going to sing one song called "Every Move I Make." We are going to sing it on the Friday night Shabbat service. Every day before choir, Onyx and Simba come out with a guitar and sing a song called "Choir Time." I'm sure that you've all heard them sing it around that time. It's very catchy, though they've been singing that song for a while. I hope you like/liked us on Friday. We worked very hard on it and it took a lot of practice. Though one of the boys lost their voice. Enjoy the song!
Rock, Big Tuna, Sonic
Benjamin Degel
My life started in the dining hall with Reuben, Issachar, Dan, Gad, Judah, Zebulun, Levi, Simeon and Naphtali. Isn't that great! All my friends were born on the same day.
I just have to say my life is nice and full of adventure. The reason my life is nice is because they always bring me to play dates with my friends while they eat, which is nice because I don't eat. They also carry me a lot. Once, I needed time alone and all the men left. How nice is that.
The reason my life is full of adventure is because they do all this stuff. Like once, they all dressed up like robots and were funny. Also they dressed like a caterpillar and like a super hero. Man, good times, good times. Well, that's why I think I would be a good degel fashion model.
Camp Haiku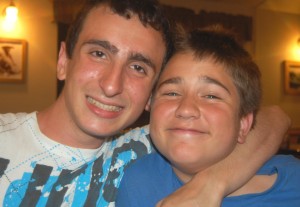 ---
Camp Art
David S.
Louisa G.
Max C.
Robert G.
Skye R.
---
---
---