Vivian K., Age 10
Tribe of Naphtali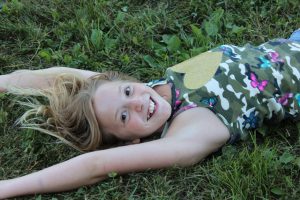 Hi! I'm Vivian and I'm going to tell you about movie night at Camp Gilgal!
I bet a lot of people watch movies with their family/friends but have you ever been to movie night at Camp Gilgal?!
Movie night at Camp Gilgal is where tribes gather in the Mishkan to watch a surprise movie!
The surprise movie that we watched this year was Toy Story! I fell asleep two times! It was so much fun!! The staff members also allow you to get candy/snacks too! Like: chips, popcorn, cookies, Twizzlers, Goldfish, pretzels, Starburst, Kit Kats, soda and more! We brought sleeping bags and blankets which was super cozy.
So, I suggest you come on down to Camp Gilgal and you'll be able to go to movie night! It's the best kind of movie night! A campout movie night! I hope you are interested now!!!