Benjamin W.
Age 15
From the first year playing freeze tag at a small camp in Tuolumne county, to playing Capture the Degel at teen camp, to four-wheeling with adventure camp while traveling up the California Coast. From no one knowing one another to being a family. From a local beginning to becoming an international event. Camp Gilgal has been happening for 20 years, and it is just the beginning.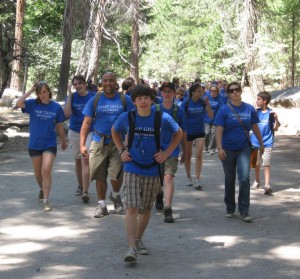 Everything started in early summer, 1991, when 13 campers attended the first Camp Gilgal at Silver Spur in Tuolumne, California. A year later they first entered Columbia's Glorious Fourth of July Parade. Throughout the years, many other things have happened, like the start of new camps: teen camp, adventure camp, and WWW (Wonderful Winter Weekend). They have also included new games like Capture the Degel and Mission Impossible.
But this camp is way more than games and a way to get away from it all. It is a place to connect with other believers, make new friends, and learn more about God and life. Camp Gilgal has impacted many campers positively in the name of Yeshua!
Camp is important. We all know "Once part of the Camp Gilgal family, always part of the Camp Gilgal family!" This is why we are all more than just friends…We are Family! Many of us were dramatically affected by camp; no one ever truly regrets their experience here. Lives are changed here, we learn about God love here, we learn to love others, and how God can affect your own life.
This article, being very vague, is a very basic statement of what has happened the past 20 years of camp. It has helped many young believers in Yeshua.