Zoe N., Age 12
Tribe of Simeon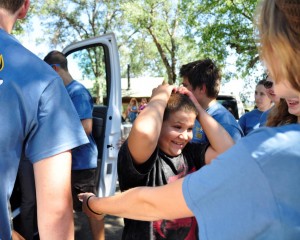 Arriving at camp is very exciting. When you first go up the hill the staff are hiding and then they come out and start drumming on the cars. Then you get out of your car, the staff give you hugs and you get to see all of your friends. Every year there are new campers and staff. When you get all your stuff out of the car you get to go swimming, play carpet ball and ping pong. After your parents leave you, you go and see what cabin you're in, meet your tribe leaders and the campers you're staying with in your cabin. They then tell you the girls stay on their side and the boys stay on their side. You cannot go on either side or you will make purple.
Sometimes on the first day after you bring your stuff to the cabin, you have Utensil Night. How you do it is you close your eyes and pull out an item from a pot and use it to eat. After dinner you go outside and choose a tribe name from the twelve tribes of Israel. Then you choose the color and a design on your degel. This year for our tribe we did a flaming sword for our tribe Simeon.
The first day at camp was very exciting for a first start of camp. The first day of camp gives you an exciting start for the rest of the two weeks. The theme verse for our camp is Joshua 1:9.