Setting Our Minds on Things Above
(Colossians 3:2-4) 
"Set your minds on things above, not on earthly things. For you died, and your life is now hidden with Christ in God. When Christ, who is your life, appears, then you also will appear with Him in glory."
---
The Gilgal Gazette is published by Camp Gilgal campers for Camp Gilgal campers and their families and friends!
---
Campers:
Ariel C., Ben S., Elijah M., Josiah M., Justice L., Kayla P., Kendall M., Lauren C., Megan M., Moriah C., Raveena L., Shoshana Z.
Staff:
Coco, Duke, Pebbles, Rockstar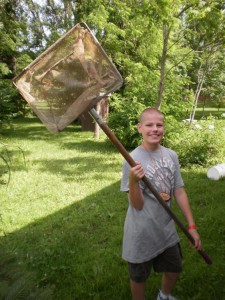 Directors:
Chiclet and Taz
---
Family and Friends
Pebbles Interview
Shoshana Z., Age 13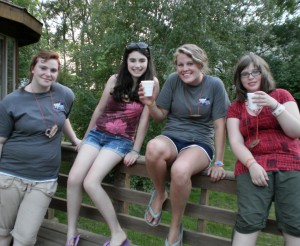 Q. What's your favorite movie?
A. Princess Bride
Q. What's your favorite food?
A. Avocados and raspberries (but not together)
Q. What's your favorite memory of camp?
A. Getting caught in the tornado
Q. What's your favorite ice cream?
A. Chocolate moose tracks
Q. What's your favorite kind of animal?
A. Giraffe
Rockstar Interview
Megan M., Age 13

Q. How do you like your eggs?
A. Sunny side up
Q. What are three things you would bring onto a deserted island?
A. Book, a knife, and a picture of Duke
Q. How long have you liked Duke?
A. Since I first laid eyes on him.
Q. Longest time going without a shower?
A. Five days at adventure camp each year
Q. Favorite drink?
A. Light blue Gatorade or Dr. Pepper
Q. Favorite fast food?
A. In-N-Out burger
Q. What would you put on a sandwich?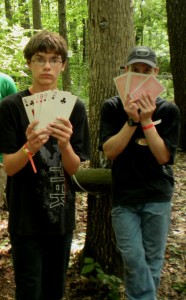 A. Roast beef, provolone cheese, lettuce, green peppers, mayo
Q. Favorite color?
A. Midnight blue
Q. If you could invent an ice cream flavor, what would it be?
A. Chocolate superman
Coco Interview
Moriah C., Age 13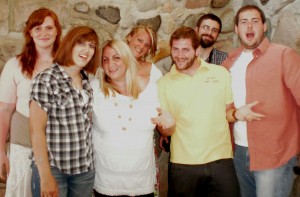 Q. What sport do you like the best?
A. Football
Q. What do you like better, milk or water?
A. Water
Q. Did you ever go to junior camp?
A. Yes, for four years
Q. Do you like cheese on your burgers?
A. Yes
Q. What's your favorite movie?
A. Indiana Jones
---
Adventures and Games!
Canoe Trip

Lauren C., Age 12

One day our camp went canoeing and I was paired up with Justice. We were the third person closest to the place that we needed to go to but we were kinda far away from the place too. So we were paddling and we both leaned to the side by accident and we tipped over and I bumped my head on the canoe. Then I fell in the water and so did Justice. Then Shoshana and Chiclet came and they had to hold the boat and turn it upside down and I got really wet.
The Tornado!
Justice L., Age 12
At Camp Gilgal 2010, there was a tornado near Camp Mack, in Warsaw, Indiana. One Camp Mack employee ran down the walkway that leads to the Gilgal cabins, which are in Mission Village, sprinting and yelling for everyone to "get inside the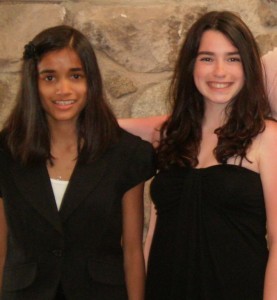 basement of the main building." The tornado did not actually hit Camp Mack, but it barely missed it. While we were in the basement, we prayed that the tornado would not hit us and it did not hit us.
Arcade Room Fun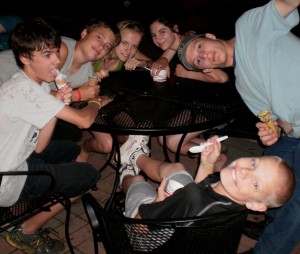 Raveena L., Age 15
We drove from camp for about 20 minutes to an arcade place. We each had twenty tokens. Some of us bought extra tokens. We could buy stuff with the tokens like snap bracelets, rings, hacky sacks, small water balls, candy and other little junk. The arcade had two floors. The second floor had laser tag. One game I enjoyed was kind of like bowling. Another was where you put a coin in, then a ball comes bouncing down and drops into one of the moving holes. For the bowling game you would throw the ball up a ramp and try making it into different holes worth different amounts of points.
Ropes Course
Ariel C., Age 14
We were going to the woods, and we all had to work together to win. It was really funny because we were all sitting on the rope, and then we were falling because we went back to trying to stand up. And when I kept standing, I kept falling down. It was really funny! Also, it was really funny because we all worked together.
Rock Climbing
Ben S., Age 13
Rock climbing was awesome. There were firewalls and they started from easiest to hardest. It was fun because when you get to the top, there's a zip line 30 feet in the air that you jump off of, and it's fun! Rock climbing is the best!!! It's my first year and I am coming back!
---
Only at Gilgal….
Capture the Degel
Kendall M., Age 13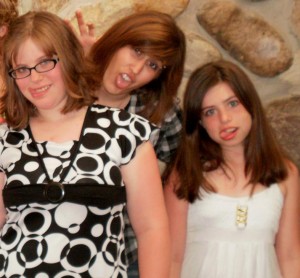 The second night at camp we played Capture the Degel (flag). My team consisted of Pebbles, Rockstar, Duke, Elijah, Josiah, Ariel, and Lauren. We waited half an hour. Me, Rockstar, and Pebbles were guarding the degel. And Taz's team won. My favorite thing I did at camp was seeing all of my old friends and getting new ones. Camp Gilgal is just the greatest camp. I don't even want to go to any other camp. My most favorite event was Capture the Degel (flag). It was just the coolest thing. We lost, but it was still super fun.
Decathalon
Kayla P., Age 15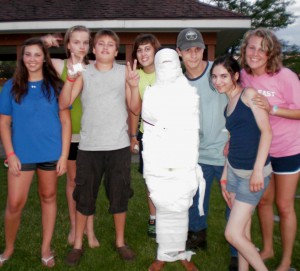 While we were all packed in the car we stopped at many different stops. First we stopped somewhere very random to have a paper rock and scissors challenge and we picked names for teams, the Cupcakes and the Awesome Blossoms. My team, the Cupcakes, had Duke, Lauren, Justice, Elijah, Pebbles, Kendall and Ariel. The Awesome Blossoms had Rockstar, Coco, Megan, Moriah, Ben, Shoshana, Raveena and Josiah.
The judges were Chiclet and Taz. After the paper scissors and rock contest that the Cupcakes won, we went to Wal-Mart and we did a cheer, had a cracker challenge and drank a 12-pack of pop. We had to stack them up and make the tallest tower. Afterwards, the score was 2-2 and we went over to a park. There we had a donut challenge and had to make a mummy. The score was now the Cupcakes 2 and the Awesome Blossoms 4.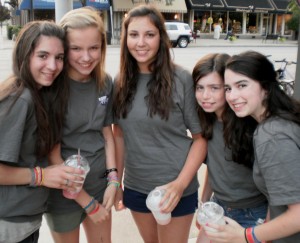 Next, we went over to an ice cream shop for a break. It was yummy. Next, we played team-mafia. Score was now 5-2. We also had a build-a-cup challenge and the Awesome Blossoms won 2-7. Also, Elijah and Megan had to retrieve a ball that was thrown into the lake, and Elijah won, allowing the Cupcakes to gain a point.
But at the end, the Awesome Blossoms were the best, winning 7-3.
---
(Colossians 3:2-4)