Aaron M., Age 15
Tribe of Issachar
Camp is a fun place. There is white water rafting, paint ball, and lots of fun activities like "how to be a bender," archer, and even "prancercizing" (whatever that is). We even have campfires! However, camp is more than a place to have fun. It is also a place of spiritual growth. I have gone to camp for seven years, and seeing that this is my last year as a camper (before adventure camp which happens other places), I have decided to write about ho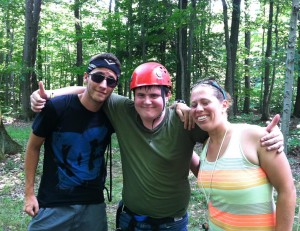 w it made me grow. I started at camp not really knowing what to expect, but I soon learned that camp is a place where God is. The leaders were inspiring and really knew God. Their testimonies on how they came to faith in Jesus as Messiah were supporting and encouraging to me. In junior camp we had campfires and Tabernacle. That is where we learned about God and how He loves us and cares for us. Camp Gilgal helped me grow closer to God and helped me understand my faith. 
This year we did a challenge course called the high ropes and at the time I heard about it, it made me really scared. I am terrified of falling! Even though I was scared, the fun that I thought it would be made the risk worth it. I got up onto the course and immediately did not want to do it. But, with the help of the leaders and instructors I was able to overcome my fears. When I think about it, it shows me that God is there with us, and also that we need to trust and put our faith in Him. He will lead us through the trials and not let us fall. 
Camp Gilgal is a place where we can both have fun and grow in our faith. It is a place where Jewish teens can be with other teens and learn about the Messiah, Jesus. As for me, I hope I will be able to come back to camp as a leader, so that I can help other campers to grow in their faith as I did.