Julia K., Age 14
The most epic, most terrifying event of all teen camp, so dangerous that only the brave few will ever try it… steering on the paddle boats. But doing the actual paddling is pretty scary, too. Even the canoes have a small thrill to them. However, it is the paddle boats paddling on the small lake that claim all the most gnarly and epic stories. Mia C. shares her story:  "When I came on the d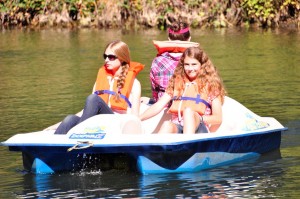 ock to board the boat, I expected a leisurely boat ride. However, the reality turned out to be a highly controlled situation after Julia hijacked the wheel. No amount of reason or force could make her budge."
Clearly boating, especially paddle boating, is a highly intense pastime. However, for those less daring ones, relaxing on the lake is also available. There is always entertainment in watching riders slide down the newly built flume and shade also provides a way to relax. However, be wary of anybody in a canoe!  They often like to splash.
Any time of the day, boating is enjoyable, relaxing, and intense, though not exactly in that order. Every year the lake is always crowded with excited campers. Louisa G. testifies to this:  "It was a lot of fun. We raced another paddleboat and won! It was a good workout for the legs and I suggest it for everyone in the years to come."
No matter what your mood, boating is a perfect way to pass the time. Whether canoeing or paddle boating or even the flume, the lake is a fun place to be.