Erica B., Age 10
Tribe of Reuben
 Hello! My name is Erica and this is an article about Galaxy. My first question I asked her was how she got her name. She responded in an excited and cheerful way, that she loved the idea of space. Her life and family time will be in this article. Her opinions and facts will be answered here. Galaxy doesn't have a favorite color but she says she really likes pink. Her favorite snack is hot cheetos, and her f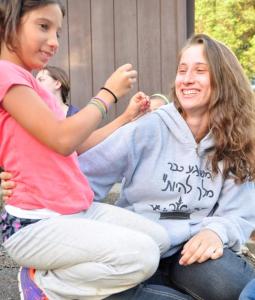 avorite candy is Sour Patch Kids. Galaxy's favorite activity here at Camp Gilgal is the pool.
Here are the facts about Galaxy. Galaxy has four dogs named Mezzy, Shelby, Trent and Choo-choo. She has four siblings, two sisters and two brothers. I asked her what her favorite camp was, and her choices were Wonderful Winter Weekend or Camp Gilgal summer camp. And she said summer camp! She started Camp Gilgal at the age of twelve and that changed the perspective in her life…in a good way.
These are her facts and opinions:
Galaxy's favorite food is stir fry because it's healthy. Her favorite dessert is chocolate chip ice cream. Galaxy's favorite sport is basketball, because she's very good at dribbling. Her favorite animals are dogs and horses. She loves the movie Sound of Music because she loves the characters' beautiful voices. Her goal in life is to have a deeper walk with God so she can have strong faith in Him. Galaxy's hardest question she was ever asked was, what her favorite role model was. She couldn't answer that question. Her favorite Disney character is Christoph, because he's funny. And, her best memory of her childhood was vacations with her family.