Keane R., Age 13
Tribe of Benjamin
"How to Be" is a very exciting activity. It teaches you how to be anything that you can imagine. We played games relating to being other things. We had a lot of fun pretending to be Bible characters, mythical creatures, cartoon characters, etc. In the activity we played a lot of improv games.
One of these games was called "Party." In this game the person who is "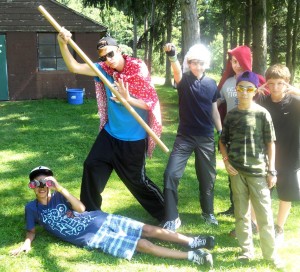 It" pretends to host a party and people begin to join their party acting out specific characters. The person hosting the party has to guess who their guests are or what they are trying to be. The party continues until the host is able to identify what their guests are doing and then those guests are counted as "out." When we played I really enjoyed this game. In the first round Scooter was the party host and I was a bagworm. Other guests at the party were Larry the Cucumber, Little Red Riding Hood, Dora the Explorer, and many others. It was very exciting and I know I had a great time using my imagination and I think everyone else did, too.