Rachel M., Age 11
Tribe of Zebulun 
My favorite part is worship because I love seeing campers being able to worship the Lord. As a younger camper I looked up to the people who got to lead worship and I hoped that one day I would be able to lead people in worship, too, so you could say that Tabernacle this year is a dream come true. I love worshiping the Lord with my voice and so leading worship is amazing. My favorite song is "You Never Let G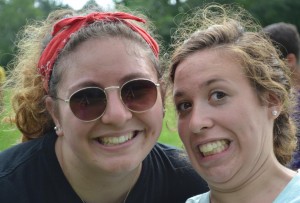 o" and "Hine Ma Tov." I really like being reminded that God doesn't let go of us and that it is a good thing for brother and sisters to be together in unity. 
But, I don't only like Tabernacle. My favorite activity is Drama Games. This activity lets me see campers use all of their creativity and it lets me see how God made each of the campers different and how He created them with different talents and interests. 
My favorite story in the Bible is Ruth. I like it because it shows Ruth choosing to follow God even when she had to leave her home. I'm about to leave my home, too, so this is a great reminder and encouragement to me.