Myra M., Age 9
Tribe of Issachar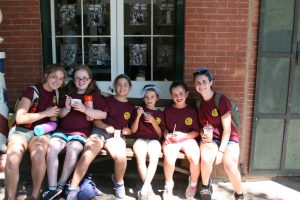 Whenever Rosie comes to check out teeth we sing the national anthem.
It was so much fun when we had FOB because we send notes to each other and we whisper too.
Rina said, "I like MI and the water slide."
When we do devotions, we are always praying to God and reading the Bible which is so fun!
Rina and I are best friends. What she likes to do with me is to play carpetball.
MI was so much fun this year. We got out a couple times, but it was still fun.
At Ladies' Day, there was moon sand and face paint, a little snack booth that was tasty. I loved Men's Day even though it wasn't about girls because we got to ride beautiful horses.
Skit night was awesome! We acted out 12 spies of Israel. I loved my tribe this year!