Ashlyn C., Age 10
Tribe of Issachar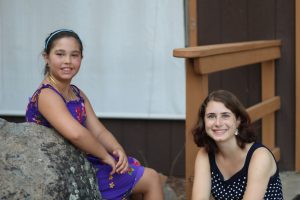 So, it was Ladies' Day and we went swimming for about an hour. When it was time we got out, we went through a portal. It was galaxy themed. It was so cool. There were lots of things to do. They made moon sand and almost everything there. There was a room of glow sticks and glow swords. There were also galaxy lava lamps that we made ourselves. There was also candy and snacks. I loved the fruit rocket ship sticks stand. I also loved the face paint.
Doodles did a superhero mask on me. It was so cool when people were doing sword fights with the glow swords. I asked Teva what she like about Ladies' Day. She said, "I loved being with just the ladies." Then I asked if she liked the theme and she said, "I loved the theme and getting space buns."
Lastly, I asked if she got her face painted. Teva said, "I painted other people's faces." Then I asked Rina what she like about Ladies' Day. She said, "My favorite part was making galaxies in a bottle." She also liked the theme and got her face painted by Teva. It was so much fun! I hope you enjoy your Ladies' Day at camp!