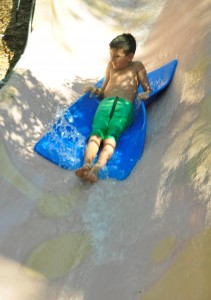 Bailey H., Age 10
Tribe of Asher
Slip, slip, slip and slide! The waterslide at Silver Spur Camp and Retreat Center is so fun. When you first get to the waterslide, an expert on the slide explains the rules.
#1 Always go down the slide with a mat.
#2 Fold up your mat like a taco to have a better water slide experience.
#3 Don't go down the slide until an adult tells you that you can.
Next, you form a line, and the fun begins.
One by one campers go up the slope to the top of the slide and one by one they come down with a smile. The actual water slide starts with a small drop and then has a few turns. At one point, staff can dump water on your face with a pan. Unfortunately, this year the contraption didn't work.
The waterslide is a great addition to the camp. I look forward to it every year. Thanks for reading my article.