Sarah O., Age 12
Tribe of Issachar
Movie night is one of the best nights in camp ever! We watch a movie, eat snacks, drink soda, and stay up late. On movie night, we are allowed to bring blankets, sleeping bags, pillow, and stuffed animals.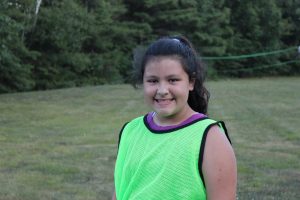 I was super excited for my first movie night at camp! Everyone gathers in the Mishkan at night: campers, tribe leaders and stuffed animals. Once everyone was there and quiet, they turned on the movie.
On that night we watched Toy Story 1. Once we got about a quarter way through, RedSox pauses the movie so we could get snacks. There were chips, candy, and soda!
Once the movie was over, we threw out our trash and went to bed. My favorite part of movie night was sitting and laughing with my friends.
Movie night at Camp Gilgal is awesome!