Nazra B., Age 15
Tribe of Judah
This year for the overnight we went to a new campsite. The old campsite wasn't that good. The bugs were the worst—it was like a dense fog of mosquitoes. It was dreadful. They could bite through your pants. But it did have a pool that we could swim in and it was secluded so we could talk in any volume we wanted.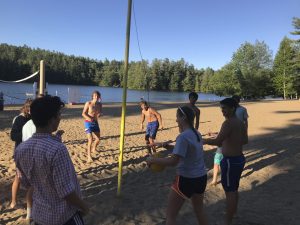 But the new site that we went to was way nicer than last year. It had a big lake that had a very delightful temperature, a basketball court, several playgrounds, and a very fun game called tetherball.
The sleeping arrangements were really splendid. I think I slept better in the tent than in the cabin beds. When we all woke up you could see the beautiful lake with fog rolling over it like a wave.
For dinner while the campers were enjoying the lake, Watson and RedSox made a delicious dinner of hot dogs and hamburgers over the open fire. After dinner we had a campfire discussion and got to spend time looking at the stars—something the old site's mosquitoes never let us do! I loved the campout and can't wait to come back to this campsite.