Lizzy N., Age 10
Tribe of Zebulun
Onyx is an out-of-cabin staff member at Camp Gilgal this year. Onyx has been coming to camp for eight years. His favorite part about camp is getting to know the campers and to let them know more about God in a fun way. When he is at home, he loves to cook and play backgammon in coffee shops. He likes to study psychology and languages. 
More about Onyx:
Q: Did you already graduate from college?
A: No.
Q: What do you think about FOB?
A: I love FOB. It saves my life from being exhausted.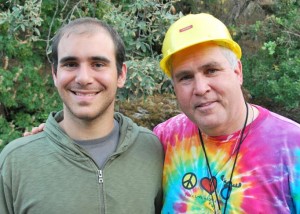 Q: Do you have a job?
A: Yes, an internship at Jews for Jesus.
Q: What is your best memory from when you were a camper?
A: Being at Bass Lake at teen camp in a banana boat.
Q: Describe Capture the Degel from your past.
A: It was kind of the same. It was one of the most exciting things in camp.
Q: How were the meals from the past?
A: I ate salad, never anything else.
Q: Who are your closest friends?
A: Mr. Commissioner and Cucamonga.
Q: What are your favorite hobbies?
A: Calligraphy, swimming, and reading.
Q: What is your favorite game?
A: Carpetball.