Nathan B., Age 11
Tribe of Judah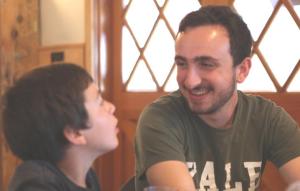 Professor loves camp. He likes carpetball but he's a little rusty. Also he loves his tribe, which is Dan. He likes Yale University (where he studies) but it is far away. He also reads for fun, and only plays basketball at camp but likes it.
He loves to swim and he is a good driver. He drives a Honda Odyssey. He does like food at camp. He loves chicken fingers; he is not a big fan of Dr. Pepper. The reason he picked the name Professor is because he likes school.
He loves God a lot since he was eight years old. He loves swimming; he was eight when he started going to Camp Gilgal. He loves soup.