Logan G., Age 15
For my paper I decided to interview Superduck. This year, I was in the same cabin with him. I have a good time teasing him and just talking with him. Superduck was in wrestling since eighth grade. During the interview I asked him for his name, date of birth and social security number. For some unknown reason he wouldn't tell me. He did tell me that his favorite thing to eat is sushi and his favorite snack is Sour Patch Kids.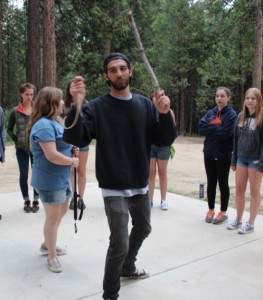 His favorite pet was a dog named Missy, but currently has none, and he said that his favorite animal is a wolf. He is currently going to San Francisco University. He said that his favorite part of camp is hanging out and playing with the campers and being able to talk to them.
Superduck's favorite color is green. He loves wrestling and a sport called spikeball. Snapple says that his favorite ice cream is mint chip. The reason I asked Snapple is because Superduck left me cause I just pulled a sick prank on him. Overall, Superduck is awesome and one of my favorite camp staff and I think everyone should get to know him.