David R., Age 12
Tribe of Dan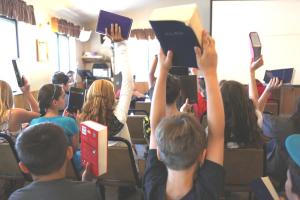 Tabernacle is really special for me and I think for all the campers because you're lifting your voice up to God and your troubles are also lifted off you. Streetlight's teachings are packed full of information but easy to comprehend. Also what she teaches will help us out in our lives.
After breakfast, I'm always waiting for Tabernacle to start because we can read our Bibles more and learn about God's Word. Last year someone from my congregation passed away that I was very close to and I think Streetlight's teaching about God as our anchor really helped me.
This article is about why I love Tabernacle. I consider Camp Gilgal my second home and I love my camp family.