By Isaiah L. age 14
This year at team camp we drove to Yosemite National Park. Yosemite is about an hour and a half away from Camp Oakhurst, where we spend most of our time. Anyway, once we arrived in Yosemite, all of the parking spaces were full, so we drove around waiting for one to become vacant.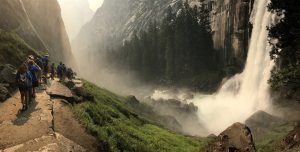 When we finally got a parking spot, we walked to a campsite where we did worship and a Bible study. We had lunch for about 10 minutes before starting the hike. A few other campers and I had to run back to throw away the garbage from the lunch. Since we had to hurry up we were already tired when we started the hike. We hiked for five hours. We took the Vernal Falls hike. I enjoyed the hike, it was one that I haven't been on before. The entire hike was around 4 ½ miles. It was a great challenge and a lot of fun. Jonathan, one of the other campers, said he would bring his family on the same hike after camp. We took our camp picture on a rock in front of the river.
On the way back there was a lot of traffic so we sang songs. After about two hours we finally drove away because it was about 7:30 pm and we had to go to a pizza restaurant for dinner the pizza was great and we had a good rest of the day.