Ryan H., Age 10
Tribe of Levi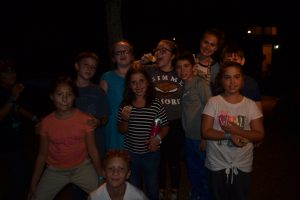 The campfire had a series of things. The first thing we did is sing camp songs and dance with hand motions. It's fun because most of the songs speed up the hand motions and words until we're at our top speed! The next thing we did was listen to S'mores share her testimony with everyone and she was very brave to do that. The third thing we did was pray about how thankful we are for camp and how Jesus died for our sins so he could forgive everyone. It was amazing to feel God's presence so strong around me and the other campers!
The fourth we did was worship and praise God for forgiving our sins. We also sung this song about how powerful he is and how his love is unconditional for us! The final thing we did was roast marshmallows because what is a campfire without s'mores. Urijah said, "The s'mores were my most favorite part!" We were allowed to roast marshmallows. That is a lot of fun, right?
After we finished we went back to brush our teeth and take a shower so we wouldn't smell nasty and have dirt all over. That's a campfire at Camp Gilgal.