Abigail M., Age 12
Everyone knows Acorn for her kind ways, her open heart and her completely selfless actions.
She never leaves a camper behind. This year at teen camp, I've gotten to know Acorn as a tribe leader and sister. It was my first time getting Acorn as a tribe leader. Throughout this week she has been a tremendous part of my walk with Y'shua, as well as the other wonderful staff.
 Here's a little bit about Acorn: 
Her favorite foods are ethnic foods, such as Burmese food, Chinese food and Mexican food. Acorn enjoys mint chocolate chip ice cream. Her favorite shops are Urban Outfitters and Anthropology.
In general,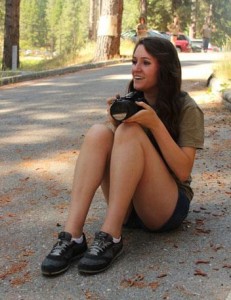 Acorn loves animals but her all-time favorites are squirrels and chipmunks. During her free time she likes to play volleyball and take lots of pictures. 
Acorn loves to travel and has been to 28 states. 
I asked Acorn, "What is your favorite memory from camp?" She replied, "This year at teen camp I made in into the degel circle and helped strategized the lady staff and men's victory."
She has grown up with Sparkler, Bologna, Hershey, and Waffles throughout her years at camp. Her first tribe leaders were Skittles and Capo.
Finally, I asked Acorn, "How has camp influenced you throughout all these years?" Acorn replied, "I have truly grown in my relationship with God and camp has made me want to come back as a tribe leader and encourage campers in their faith."