Sarah K., Age 14
There are many different tribe leaders at camp but there is none quite like Ivory. Her first year at camp was in 2000 as a tribe leader when some of her children in junior camp went to camp. Ivory is married to Doc and has four children. Their oldest child is 33 years old and her name is Leah. Their second oldest child is 32 years old and his name is David. Their last two children are twins, they are 23. Both of them are tribe leaders for Camp Gilgal and their names are Cosmo and Dynamite.
Ivory has light brown curly hair and beautiful brown eyes. She is a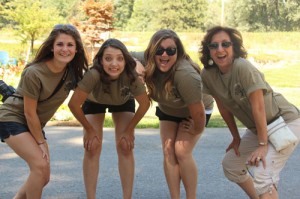 choir director and an office manager for Doc's medical practice. Ivory has been playing the piano since she was ten and loves it. Another thing about Ivory is that she has been to India, South Sudan, Romania and Ukraine. In India and South Sudan Ivory ministered the gospel, and in Romania and Ukraine Ivory went to music camps for orphans, gypsy children who are blind and some other kids. Ivory's favorite part of being a tribe leader is getting to know her tribe and seeing how God is working in their lives.
This year in teen camp I was able to have Ivory as a tribe leader. She is so beautiful and nice and you can just tell how much she loves God. She is easy to talk to and listens to what you have to say. I love Ivory so much and I hope someday I can have her as a tribe leader again.