by Talia W. age 11
Tribe of Ephraim
This year for camp we are making belts. I will now tell you what Claire said about craft: "The idea is cool because it's a normal craft but also has a level of usefulness."
For my design, see picture below.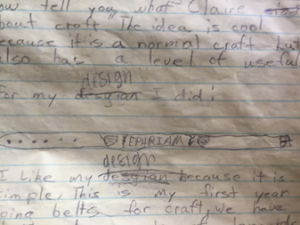 I like my design because it is simple. This is my first year doing belts. For craft we also made a couple of lanyards.
I will now interview Macaroni. She likes to pound the hammer to put the stamps into the belt.
Let's see what Mango has to say about craft. "I never got to make the belts when I was a camper so I think they're really cool." I also think they are really fun.
Here's what Oofnick says about craft. "I get a Sweet belt!"
It is amazing to make and fun. We also stain in our belts there is black and fudge brown.
My tribe is in Hebrew first and then craft.
The process of making belts is
Design your belt.
You get your belt.
You size your belt.
You soak your belt.
You stamp your belt.
You dry your belt.
You dye your belt.
You finish your belt.
You dry your belt.
You wear your belt.