Daniella W., Age 14
At Camp Gilgal we got the chance to have an espresso cart on the camp grounds. It was really good because there were a lot of things to choose from, from water to delicious milkshakes.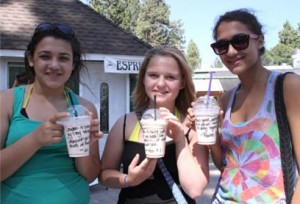 Many of the campers enjoyed trying all the different drinks. This year the drink cups had different Bible verses on them. All the cups blessed the campers. I had Hebrews 11:1: "Now faith is the assurance of things hoped for but not seen."
It was great that I could go to the espresso cart with my friends: Dorothy, Brighton, Leia and Gabby. We all got different flavors of milkshakes. I got chocolate chip cookie dough and Gabby and Brighton got Oreo milkshakes. I was really encouraged that I got to spend that time getting to know my friends more. It was a great start for the week.