Leah M., Age 14
Tribe of Judah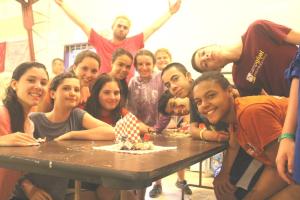 This is my first year at Camp Gilgal and I had a great time. I wasn't expecting to have such a good time because the day before I was really nervous I wasn't going to meet new friends. But when I arrived I made so many new friends and had so much fun.
If I could talk to myself before I came to camp, I would say, "Do not be nervous. You are going to make so many new friends and learn so much about Jesus." I really want to come back to camp next year!
My friend Ana invited me to camp and I am so glad she did.