Abbey M.
Age 15
Pocahontas. Not your stereotypical Disney princess. Despite her internal love for giraffes, her kind and caring love for others does in fact exceed her love for animals. Pocahontas' favorite book of the Bible is James. She describes it as "very practical. It covers so many different things." Pocahontas is the ideal traveling partner on all occasions. Having visited 14 different countries, she decided she favored Italy most. "I love the food and I really admire the colorful, vibrant cities," she explained.
Out of the countries she's lived in, she has liked living in Israel the most. Here's what Pocahontas has got to say: "In Israel, I feel at home. Everybody accepts you. There, people are very open and honest and you can just be yourself." Her hobbies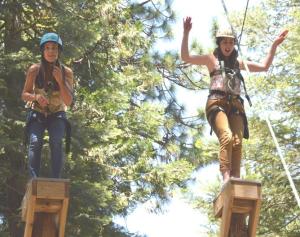 include hiking, traveling, baking and blogging. She favors music that has sort of an indie, alternative feel. Pocahontas particularly likes Foster the People and Mumford and Sons. Her favorite color is mint, or a really light blue. She enjoys shopping in smaller stores and boutiques with different vintage selections. Hands down, Pocahontas absolutely looooves coconut ice cream with chocolate Belgian ice cream (they have to be together!). Her favorite books are from the Mark of the Lion series by Francine Rivers.
Pocahontas considers Mother Theresa a great example of a servant and a hero she often looks up to. She admires her because "she gave her whole life to serve without expecting anything in return." She defines a servant as "someone who's constantly humble without expecting praise or anything in return, and is always willing to give." With that in mind, I can faithfully say that Pocahontas lives as a true servant of God. This teen camp, she and her husband, Husky, have devoted their time to learn from the staff at camp so that they can travel back to Israel and help a camp similar to ours for Jewish believers in Jesus.