By Yoav S. age 9
Tribe of Benjamin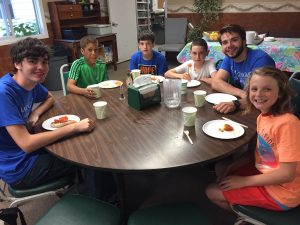 The camp chef makes the best food. The turkey bacon is just the best! I love the food so much. I always want to get breakfast first. Breakfast is my favorite meal and camp breakfast is extra delicious. My favorite non-breakfast meal is tacos because I love the bowl of cheese. Mmmm, the chef is awesome at making food! I got very hungry now just thinking about it! Even on the sleepout when Hiccup and Indiana Jones made the burgers and hot dogs the food was tasty! I ate two hamburgers and three hot dogs and a s'more. I was so full that at breakfast I could only eat one small bowl of cereal!
My favorite vegetable at camp (you have to eat vegetables at every lunch and every dinner) is cucumbers. I love them! I love food all the time! At home, my favorite thing to eat is turkey bacon and eggs, so I love those meals at camp too!
Also, before the meals, one of the campers volunteers to lead the Hebrew blessings over the food and drink and then they pray in English. After lunch, we do a prayer called the birkat hamazon where we get to bang on the table and sing and thank God for the food!
Get excited, if you come to Camp Gilgal you can eat chef's food too!