Sivan K., Age 12
Tribe of Zebulun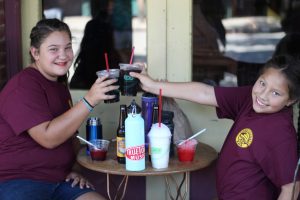 Columbia was such a cute little town. All of the store owners were kind and welcoming. I live in Dallas, Texas, and we don't have many little towns or local stores. In Columbia, it's like you're back in time. There are horse carriages, candy stores, and ice cream parlors. Many of the store owners are dressed like pioneers.
I am in the Tribe of Zebulun and this is my first year at Camp Gilgal. We went to the Fallon Ice Cream Parlor, candle dipping, shops with home-made things, and candy stores. I loved candle dipping. I made a rose for my mom and Shabbat candles for my grandma.
We also went into the gift shop near the gold panning and I got to see so many different types of gems and some gold. I asked Shalom what her favorite thing to do in Columbia was and she said, "I liked eating the ice cream at the ice cream parlor."
I noticed that a lot of shops had animals in them such as dogs and cats. All of the shops had such interesting things that were special to Columbia. I tried sarsaparilla for the first time; it was good, but really sweet. The shaved ice at Brown's was great!
I loved the small town of Columbia. It was such a privilege to be able to go with camp friends!