Carrie M., Age 14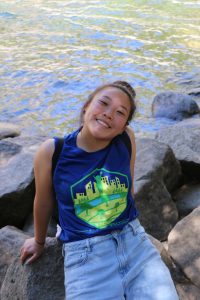 We were all tired after the long, staggering hike. The staff had promised us pizza at the Pizza Factory. When we arrived, we were told that we could sit wherever we wanted. So, Percy and I sat at the metal round table. We were soon accompanied by Isaiah and Gadget.
Gadget is a cool mensch who tells stories of old memories and really bad dad jokes. For example, at the Pizza Factory he said, "I left a 'piece-a' my heart there." The waitress served us BBQ pizza, garlic chicken pizza, and plain cheese pizza. All of us were so hungry that we finished off the pizza on the first round.
It was a fun and enjoyable evening which included laughing, sharing stories, and friendly bonding. Sharing pizza with your camp family is definitely a great way to finish a long day of schlepping.