Zemeira W., Age 12
Tribe of Manasseh
 Moose is the funny, sweet director of Camp Gilgal West, though he loves all of the camps that Jews for Jesus does. We play a lot of games during Camp Gilgal and his favorite is Capture the Degel. He sings a lot of songs when he is in jail to get help and to entertain himself. One year he got poison oak in his eye but it didn't hurt, it was just uncomfortable.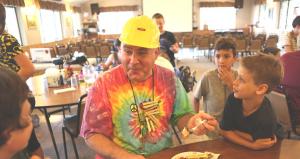 He likes sushi, ice water with lemon, and he doesn't have a favorite ice cream but he likes Moose Tracks. His favorite colors are brown and blue and his favorite dinner theme is Utensil Night. He doesn't have a favorite song but he really likes "How Great Thou Art." His favorite candy is dark chocolate with almonds. His favorite cartoon characters are the Roadrunner and the Coyote. His comment on camp names is, "If it fits you, wear it."
 He made camp for young Jewish people to grow closer to Yeshua (Jesus)as their Messiah and to meet other young Jewish believers.