Alyssa C., Age 14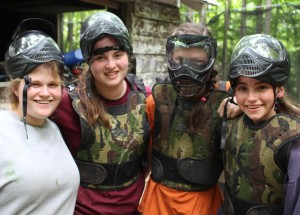 Tribe of Ephraim
Oh paintball… Where do I even begin? It was traumatizing. And awesome, but traumatizing. I am writing this right now, covered in welts and mosquito bites, and frankly I can't tell which are which.
This was my first paintball experience so I didn't know what to expect, except that it was going to hurt. So, we get to the paintball place, which is located at the camp in the woods. We were split up into two teams. From this point on, it gets kinda surprising. We learned how to use the paintball gun, and put on our helmets. The two teams had to stand across from each other and shoot each other to get used to it. Everyone was shocked to be shooting their friend right across from them. The first time I got hit it felt like what I'd imagine a bullet is like. It was right on my thigh and I wanted to cry. It was surprising, but went away after a few seconds.
Well, after that happened, we played mini six-minute games. I was about to give up but realized it really wasn't that bad and fought through the pain. I was happy that I shot a few people, but my aim was still pretty bad. After it was done we all talked about our experiences and then Elliot ate a paintball for a dollar (after making sure it was non-toxic). I'm not gonna talk about that. It was weird and kinda gross (obviously).
I realized that even though it was scary I'm glad I experienced it with all of my friends and that paintball isn't just for some people. I would definitely do paintball again next year because turns out it was really fun and exciting. I encourage everyone to try paintball at least once in their lives because it's an awesome experience once you get going.