By Asher W. age 15
Tribe of Zebulon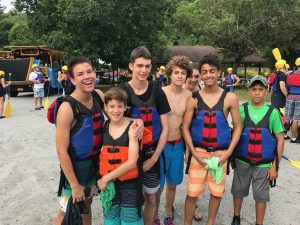 No one really knows how it happened, but we do know two things:
Y'didyah bent time and space
He also bent his femur on a rock
The Camp Gilgal rafting trip of 2017 began on a Wednesday night at a local camp nearby. Even though these nocturnal hours were fun, the night was filled with millions of mosquitoes. The following day, the entire camp loaded into vans that took us to Wild Waters, a white water rafting company committed to providing a safe and enjoyable day on the Hudson River. After we changed in the wonderful cedar smelling washrooms and covered each other in sunscreen we were fitted with flotation devices. Once the river-rat look was achieved with the aid of helmets and paddles, we were directed into the Wild Water bus and had an orientation.
Everybody was laughing and singing Amazing Grace as the bus pulled onto the gravel road that leads down to the river. After unloading we circled around Hiccup, the camp intern, to receive our raft group assignments. Once we met our charismatic guide, we carried our raft to the water with our groups. Under the command of our guide, my raft paddled around to practice for a few minutes before floating between two trees and into our first rapid. We had almost navigated ourselves out of an exceptionally exciting rapid, when a mob of water swept our raft into a rock, jerking us in a sudden 180 degree spin.
Regretfully, Y'didyah had failed to tuck in his feet properly and bent time and space as he was propelled out of the raft. With a splash that a uranium bomb would have been proud of, Y'didyah back flipped into the river and floated safely to another raft. Within minutes, we welcomed the soggy Y'didyah back into our raft and continued to the next rapid. It is always best to laugh, get back up and check to make sure your contacts are still in.