Boaz B., Age 14
Tribe of Levi
Soccer was fun. It was a Friday, it was pretty hot, and every 30 seconds Verde and Ruski told us to get water.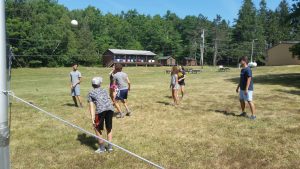 Soccer was a little different because we only had seven players including Verde and Ruski. On my team was Judah, Verde, and me. On the other was Ruski, Ephraim, Nathan, and Daniel. The score ended at 3-2, us.
Camp Gilgal has activities like soccer, basketball and whitewater rafting, and lots more. There are at least two activities each day. If you are thinking of coming to Camp Gilgal or sending your kid, you have a good mindset. It's a great place to find friends and have a deeper connection with God even through the regular, daily activities.