Nathanael D., Age 12
Tribe of Benjamin 
Swank is one of the coolest tribe leaders at camp! He really enjoyed white water rafting. The reason why is because from the time he was eight until he was twelve he would spend his summer in a canoe, so he is used to being on the water.
He really likes the Bible verse Jonah 2:1-2 which says, "From inside of the fish Jonah prayed to the Lord his God. He said: 'In my distress I called to the Lord, and he answered me. From the depths of the grave I called for help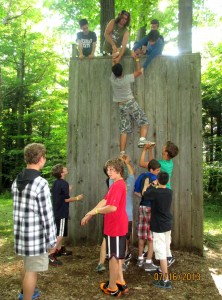 and you listened to my cry.'" These verses spoke to Swank first when he was a camper and one of the staff shared it during a Bible study. It is a very hard hitting verse for Swank. He loves the reminder that God is always available to him when he needs help.
Swank has a definite fear of heights, and this year at camp all the campers and staff had the opportunity to conquer that fear. We got to do the high ropes course, and it had obstacles that seemed like they were dangling from the trees. I was really surprised that someone like Swank who seems like a big, strong, grown man could be scared of heights. It was great that Swank shared that with me.
It was great that we watched The Avengers at camp this year because it is Swank's favorite movie. He likes it so much that words aren't enough to explain it. I pretty much agree with him, I love getting to see this movie over and over!
Swank is studying English in college (and some other stuff) and he really likes to read. He especially likes to read books written by Chaim Potok. They speak to him and make him really think deeply.
On the first night of camp we always have pizza, but Swank wishes that just one time we would have BBQ chicken pizza because that is his favorite kind. I really think that Swank is a great tribe leader. He is a fun loving (and hairy) tribe leader and you would be a lucky camper if you get to have him. But you better act fast, because Swank loves to travel. He has already been to England, France, Romania, Israel, Jamaica, Mexico, and Canada and he is dreaming of going to Australia next!