Sophia M., Age 11
Tribe of Simeon
Our God is great, strong, healer, and amazing in power. These are four out of one million things the Lord is to us and we get to experience these elements and get to learn about God every day during Tabernacle through singing, teachings, reading the Word of the Lord and memory verses.
We sing to God to thank Him for many miracles He brings to the world. Talking to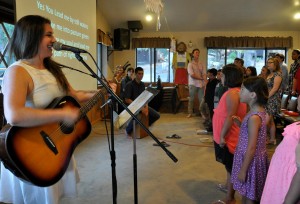 God is an amazing privilege, but singing is praising and thanking Him through our voices. Many favorite songs are "The Happy Song," Bailey H. exclaims to me, and "Blessed Be," Sasha S. says to me. Worshiping God is an opportunity to talk to God through singing during Tabernacle.
Every day we get taught by our wonderful one and only Streetlight. We learn that God never gives up on us and that we live in a broken world with our broken selves. We also learn that one day we will have a future home in heaven because of what Yeshua has done for us.
In conclusion, Tabernacle is our way of thanking God for all He has done for us by song with praise and learning about our history. God is alive and is our main focus at Camp Gilgal. Our relationship with God grows more and more throughout camp like our height throughout the years.