Bailey H., Age 10
Tribe of Asher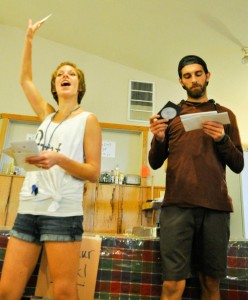 Letters! Spinners! Bonus Rounds! Mail Call is exciting for everyone, if you get mail or not.
Mail Call starts with the exciting banging of the table. Screaming and pounding is encouraged.
Next, Snapple chooses a courageous volunteer to be a spinner.
If you become a spinner, your job is to jump in a circle and shimmy your wrist above your head. If you can successfully complete this difficult challenge you are very talented. But, the trick is, you only spin when staff is called, so you have to be a good listener to have this role.
One of the most exciting parts of Mail Call is the bonus round. The first round, where you get letters, is okay, but the bonus round is spectacular! For the bonus round, if you are called, you have the honor of receiving a package. "I felt amazing the first time I got a package. I mean, there were cheese puffs in it!" states Claire C. "My favorite part of Mail Call is the bonus round!" Sophia M. exclaims.
Mail Call is one highlight of the day here at camp and I always look forward to it. Thank you for reading about Mail Call.