Steven M., Age 11
Tribe of Benjamin
I am writing about the campfire! The campfire is when we are together. The staff members come and tell us their story and that we need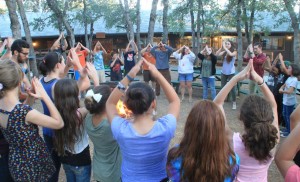 to trust God. We sing great camp songs. It's a great way to enjoy camp. At the end we roast marshmallows and eat s'mores.
The campfire is very touching. You can grow closer to God! You can feel the nice warmth of the fire. All the tribes are on the tables in a circle. The fire is in the middle.
Last, the two staff talk about their relationships with God. It touches your heart. We do it for a while till it's dark and the s'mores are gone. It's a very nice way to enjoy a nice time at camp!