Rebekah P., Age 10
Tribe of Benjamin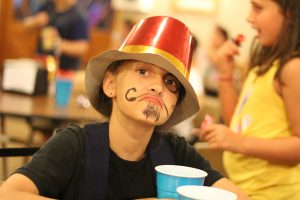 MI is one of my favorite night games. Why? Easy! You get to sneak around the whole camp and find clues together as a team. To be descriptive, o.c.s (out of cabin staff) are who we're sneaking past. They are trying to catch us while we are finding clues, as they act out funny characters.
I think this was my best year, and it is not just because Benjamin won. It's because no one got badly hurt, and it was much more interesting than the previous years.
This is my tribe's story for 2018.
My friend Ellie and I whispered back and forth about MI toward the end of the Shabbat service. Soon, the music turned on and we rushed to get ready. We ran down the ladies' hill, passing Poppins, who was making comments to me about the movie Coco. Trying not to laugh at S'mores bad-dad jokes, we went to the ladies' sunset spot, behind the pool where we received our first clue: carpet all.
Our third and fourth were dodgeball and volleyball. After those two we ran to the pool and then finally the dining hall. Benjamin won!
So that's how MI works and how it's played. Ellie says, "The best part of MI is to spies and work together and always be ready!"