Erica B., Age 11
Tribe of Asher
Have you ever wondered what it would be like to go back in time? Well, here at Camp Gilgal we have something called Throwback Thursday. Throwback Thursday is a theme night when every tribe dresses up like something in the past. It's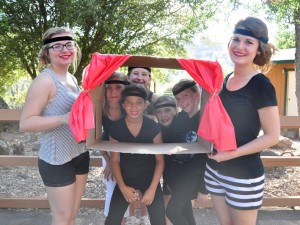 almost like hopping in a time machine!
In 2015, my tribe dressed up as girls from the 60s! We were in a small little box and we made a mini little black and white film! This theme night is a good experience to see the history of this world. I'd encourage everyone to have this fun experience.
Now we are going to hear from a couple of members from the Camp Gilgal family. Here are Claire's words: "I love how we get to see the potential of the other campers." I agree with Claire, but let's hear from a staff member! Taco's words: "I think Waffle's and S'mores' tribe had a very good and creative idea."
Everybody has a different perspective of TBT. What's yours? Do you think this sounds fun? How would you like to participate in this theme? The fun begins when you come to Camp Gilgal. See you there!