Lyrit M., Age 8
Tribe of Levi
The people in my tribe are Ryan, Jonah, Isaac, Urijah, Feedback, and Gadget. At tribe time we read the Bible, and we pray at night before we go to bed. We also do devotions.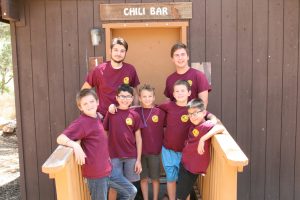 On Men's Day we had FOB, then played Silent Football and messed around with paper airplanes. In the morning we wake up to a shofar and then go to breakfast. After breakfast, we do cabin clean up. Ryan said, "My least favorite job is sweeping because it takes too long and everyone tracks in dust."
During tribe time, we hangout and we work on our memory verses. We mess around a lot. Sometimes, we read books during FOB. We also write letters to other people. We eat a bunch of candy and have a lot of fun. One time, we made a ball of socks at FOB. I had a good time in this tribe.