Sydney F., Age 15
Tribe of Judah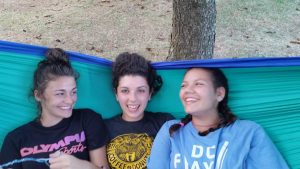 Camp Gilgal is a camp where there is so much to do. It is one of the highlights of my summer.
Gilgal is a great place, and one of my favorite spots in camp is the tree knoll.
The tree knoll is the place at camp where there are a bunch of trees. The tree knoll is the perfect spot to set up hammocks. It is the best spot because after a long day of fun activities it is a nice place to just chill. The tree knoll is also a great place for some activities. One activity that was there in the tree knoll was learning how to be a Canadian. That was where Sneezy taught us some Canadian things. During the activity we got to be all comfy in our hammocks.
Another activity that was in the tree knoll was karate. Sneezy was the leader of that too. It was nice to learn karate in a shady cool place. We also had high tea in the tree knoll. We all ate food and drinks. It was the perfect spot to sit and chill with everyone. The tree knoll is just the perfect shady, cool, peaceful area. The tree knoll is the best spot on camp and is enjoyed by all.