Carrie M., Age 11
Tribe of Simeon
We are the tribe of Simeon. There are seven of us in the cabin with eight bunk beds. As a tribe, we do everything together.
Most years we go to Columbia in cool buses. There, we witness to non-believers by marching and singing in the Fourth of July parade. As a tribe, we do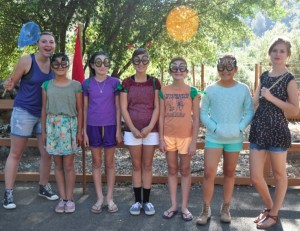 cabin clean-up. Cabin clean-up is where we clean the cabin till it is spotless and then we get points. If we get the most points for different things, then we win Tribe of the Year. If you win Tribe of the Year, the whole tribe gets $100 to spend on anything you want. Lastly, as a tribe, we go on waterslides and go night swimming. But that's not all, I just don't want to spoil all the fun we have at camp!
The people in my tribe are Sophia, Elizabeth, Zoe, Fiorella and my tribe leaders, Pippin and Sh-boom. Together we have F.O.B., which stands for Flat on Bunk. That's when we take a nap because we do so much! We also have devotions and Tabernacle together. That's when we grow closer to Yeshua/Jesus.  We also do campfires together where we roast marshmallows and eat s'mores. There are these people called Morty and Minerva. They are really funny old people and they make kids laugh so much. We are the tribe of Simeon and we always stick together.