Alex J., Age 12
Tribe of Simeon 
At Camp Gilgal you think how do we do this or that? When you arrive it's an amazing time, but one activity that you would never think of, which is so surprising, well, before I give you the answer here's a hint: you get soaked! Did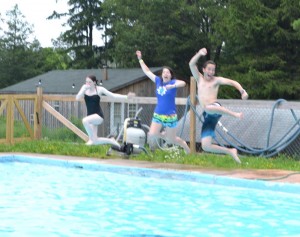 you get it? WATER WARS! It's a shocking, fun, and has a little spritz of adrenaline. Also, you end up having a great time, but great times have to come too and so this summer I would totally go to Camp Gilgal for a chance to have fun. It is so good to know that there is relief from the summer heat in such a fun way. 
In the war some things that are provided are some water guns, water balloons, tribe leaders, and yourselves. If you put it all together you get a great time and fun getting soaked! 
On Friday before Shabbat we were in our cabin during tribe time and suddenly you're smiling having so much fun, and wet out of the wazoo. I love that there are always surprises at Camp Gilgal!