Meaghan S., Age 11
Tribe of Issachar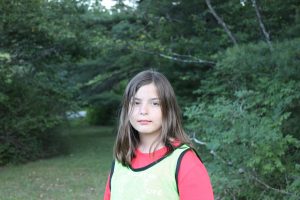 Being a camper at Camp Gilgal is pretty fun, but have you ever wondered what it's like to be a tribe leader? Well, I'm pretty sure we all have. So what if I, myself, were to be a tribe leader? Knowing me, the possibilities are endless.
Let's start with Tabernacle.
First of all, during worship I would probably sound like a person trying to audition for an opera and failing miserably, which would probably sound like this: "AAAAHHHHH" *coughing, literally choking* and this is why I don't sing aloud.
When we read the Bible about a chapter I'm really into, I would be listening and helping campers find the page in their Bible.
This next area is somewhere that Camp Gilgal goes often: campfire. When we sing songs I would probably sing like a baby bird asking me for food. It would sound like this: "CAWCAWCAWCAWCAWCAK (give me food right now woman)!!" During campfire talk every time I agreed with something that someone said, I would say "AMEN TO THAT!!"
This last area and time is my favorite: F.O.B. F.O.B is the best time because it is a time to chill out. As a tribe leader I think it would be twice as marvelous because I would be even more tired than I usually am, therefore I can enjoy it even more.
Welcome to my ending. Thank you for reading this weird story on me as a future tribe leader.