Matthew S., Age 12
Tribe of Judah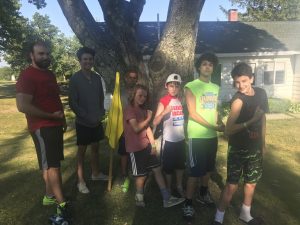 Tribe time is a time that you spend bonding and having fun with your tribe. During tribe time, you are allowed to do things you don't do as activities. Your tribe is the people that are in your cabin.
Since you are not allowed to eat food or candy all the time, tribe time is one of the only times you can eat them. Keeping food in your cabin attracts ants, mice and other bugs and animals. Also, you can do a lot of things other than eating candy. You are allowed to play sports in the field or lounge in your cabin. Other options include running, playing on the playground, going boating, and archery.
Although you are allowed to lounge during tribe time, you can only eat snacks when your staff says it's okay. I personally like to stay in my cabin. I am in the tribe of Judah. We usually hang around in our cabin at the beginning of tribe time and towards the end we play soccer in the field. If our memory verses or Gilgal Gazettes aren't finished, tribe time is the time to finish them. Most of the day is scheduled but during tribe time I like the freedom and choice.