Aylo L., Age 10
Tribe of Naphtali
Campfire is a very special time at camp! It's a wonderful way to have fun and enjoy listening to God's Word. Usually we have campfire every night.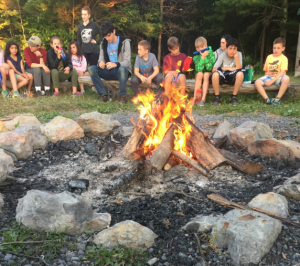 To prepare for this lovely event, campers
and tribe leaders put on bug spray and comfortable clothes. We also take a flashlight and water bottle. Once everyone has done that, tribes start walking up a hill to the top of the mountain. We all call it sunset. Tribes sit on logs around the fire.
At the beginning of every campfire, some of the staff come in front and lead us in campfire songs! By the end of the songs the sun is setting giving a beautiful view off the mountains! When songs are finished a different staff comes up and talks to us about a certain thing in the Bible. I love listening to campfire talks and learning about God.
I also like staring at the fire because it helps me to focus on what the staff are saying. When the staff are finished with their talk, RedSox closes with a prayer and we all head back to the cabins to get ready for bed. I think that campfire is a very moving experience!