Joshua F., Age 8
Tribe of Benjamin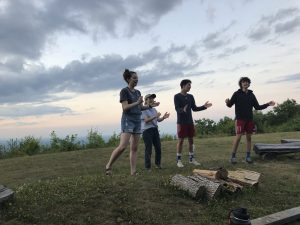 Campfire is my favorite place to learn and talk about God. There are certain staff who come up and act and then they sing songs like "Hineni," "Baby Whale," "Twelve Men,""Pharaoh" and "The Fruit of theSpirit."
My favorite song is "Baby Whale." We pray and tell stories from and about the Bible.
Ruski gave us a campfire talk that I really liked. I liked it because everybody got
to ask questions. She talked about what you would do if someone took something really special from you. The other staff had cool messages too.
I'm really looking forward to doing campfire next year.