Isaac G., Age 12
Tribe of Judah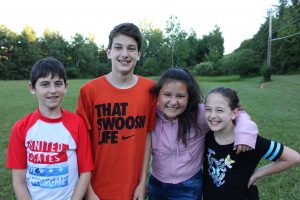 Schnitzel and Napoleon have been friends since the dawn of time. They first met before camp in 2013. They instantly became best friends by staring into each other's eyes and souls.
In their first year of camp, Schnitzel and Napoleon's tribe leaders were with Long Shanks and Wolf and their bunk mates were Daniel, Gavyn, Ephraim, and Josiah. They were in the tribe of Benjamin and the
memory verse was Deuteronomy 10:12-22.
Today I asked them how much they've spiritually grown at camp, and they said, simultaneously, "lots."
Before Schnitzel and Napoleon were on the worship team, they were on the burnt offering team, but it "got shut down by corporate."
Napoleon chose his name because Napoleon Bonaparte is one of his favorite historical figures. Schnitzel developed his name because of his love of chicken schnitzel.
Last but not least, you might be wondering if they're friends outside of camp. And they are; Schnitzel texts Napoleon every morning and every night, but Napoleon has trouble using his phone, due to his age.
Their favorite things to do together are harmonized singing in the shower, dominating paintball, evangelizing pop music, and telling Chuck Norris jokes. Napoleon's favorite year of camp was 2013 "because of the great staff and because it was the first year I was with Schnitzel."
Napoleon's favorite Bible verse is 1 Corinthians 13:4-7 because you are nothing without love. Schnitzel's favorite Bible verse is all of Psalm 139 because it's comforting and uses beautiful imagery from nature.